Scholarships are only eligible for students of French nationality residing in Vietnam, upon application to the Consulate General of France. The main requirements for bursary eligibility are as follows:
The pupil must be of French nationality and at least one of their parents must reside in the consular district.
The applicant and child must be registered in the worldwide register of French nationals living outside France. Registration must be valid at the time of submission of the scholarship application. If not, please renew your registration by clicking on this link and following the instructions.
The child must be at least 3 years old in the calendar year during which the school year begins.
Families arriving from France must hold a certificate of cancellation from the Caisse d'Allocations Familiales ([CAF] State-Funded Family Benefits Organisation) relating to their latest period of residence in France. Note: this document must be requested as a priority, given the often slow response time of the CAF.
These scholarships are offered under the aegis of the AEFE (Agency for French Education Abroad) and with the advice of the Local Scholarship Commission. The financial aid provided can be used to pay off tuition fees, school meals or transportation. An application must be submitted every year and is not automatically renewed.
The first application window of the year ends in February/March for the upcoming school year. The second application window is open in October for new residents and for those whose circumstances have drastically changed since they applied during the first window.
Given the high demand as the deadline approaches, we strongly advise you not to wait until the last minute to book an appointment.
Book an appointment
with the Social Affairs Department of the French Embassy to prepare your application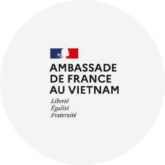 Social Affairs Department of the French Embassy
Do you need more information about financial support for education?
Please visit the French Embassy's website.