La Petite Ecole Hanoi welcomes children from 12 months to 6 years old, from nursery school to kindergarten.
Our mission is to accompany your children in their learning and their experiences in order to prepare them as well as possible for the rest of their school career. To achieve this, the teaching staff communicates with the students in three different languages: French, English and Vietnamese.
Our aim is to offer quality learning in a calm environment.
At La Petite Ecole Hanoi, all classes are kept small in order to ensure that each student receives individual attention. In addition, the teacher is supported by a full time kindergarten assistant in the classroom. In parallel, La Petite Ecole Hanoi also offers extracurricular activities, tutoring for all ages, and camps during the school holidays.
Why enrol your child at the nursery?
The nursery is often a place of discovery and experimentation where your child can explore different possibilities by playing, by trying things out and also by getting to know other children. Our mission is to encourage the children to become a little more independent every day, so that they can prepare themselves for kindergarten by making the right graphic movements, holding a conversation with other children, playing...
4 learning areas
01
Mobilising language in all its forms
To achieve this, the class is organised in French and English alternately;
02
Acting, expressing themselves and understanding through physical activity
Every week we plan swimming lessons, boxing, etc;
03
Acting, expressing themselves and understanding through artistic activities
To achieve this, we organise weekly art classes in English or French;
04
Building the first tools to structure one's thinking & Exploring the world
Accompanying the children through individual monitoring;

Encouraging the development of the children's personality through various activities (painting, sports, cooking, drama, etc.);

Encouraging their language development (in French, English and Vietnamese) as well as their sensory, motor, cognitive and social development;

Helping children to build their self-esteem and that of others.
All kindergarten students are divided into heterogeneous, multi-level groups. Each group is supervised by a teacher and participates in a project, which is the common thread that gives meaning to the learning. Each period, the groups change projects.
Examples of themes:
Around food: gardening & cooking

Scientific experimentation
(mirrors, magnets, water, optical illusions…)

Theatre and dance performance

– Creation of an exposition
(painting, sculpture, photos)

At La Petite Ecole Hanoi, the French national education curriculum is taught in French and English by two native teachers, from nursery (12 months) to the last year of Kindergarten (6 years). In order to ensure quality teaching, the teaching team benefits from training throughout the year internally, through the Odyssey Academy, and soon through the partnership with the AEFE. The school welcomes families from all backgrounds. It is open to their host country, their language and their culture.

Principles & values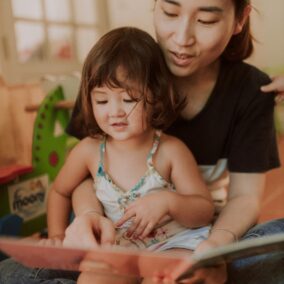 A compassionate, innovative school
that is focused on the development of the children and respects their diversity, rhythm and uniqueness.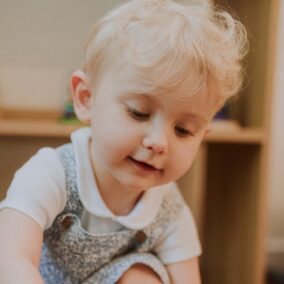 Kindergarten
is the place and the age of the first learning experiences: children learns to become autonomous and to acquire knowledge and skills by exploring at their own pace. This early learning is consolidated in primary school by the cycle of fundamental learning.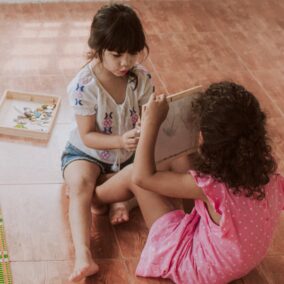 Critical period
As the most critical period for learning a language is from birth to age 7, we are committed to offering a bilingual education using the French National Education curriculum, with equal time in French and English.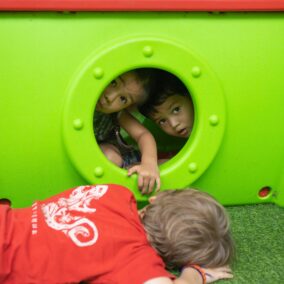 Languages
The learning of languages is an integral part of the child's day at school, in and out of the classroom.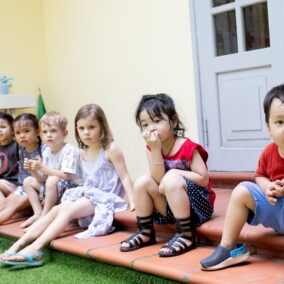 Student-led system
The introduction of a student-led system for the various play areas and workshops makes it possible to better identify the students' profiles and encourage them to use their initiative, while stimulating their desire to learn.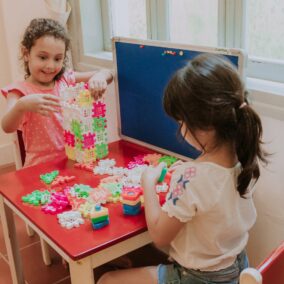 Collaborative learning
We also believe in the need for continuous collaborative learning between the family and the school, which is why the family is fully integrated within the school.
Structure the environment to structure oneself.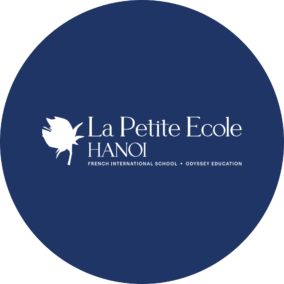 LPE Hanoi
Give your child the best start TODAY!
Admissions for the 2023-2024 school year are open.